I remember back in the day of my college and beyond years. New Years Eve was a big deal and there was anticipation of  parties with thoughts of what outfit I should wear and whether it would be a white zinfandel or beer kind of night. When midnight it and the ball dropped , the night was not totally complete unless you had the cute boy to kiss.
Well now that I have that cute boy to kiss (for 23 years actually!), my New Years eve is not complete unless there is a fresh loaf of pepperoni bread right out of the oven.  This week Sunday Supper is showcasing New Year's Eve menu idea recipes and I had to bring my Three Cheese Pepperoni Bread to the line up.
It's really easy to make especially since I use store bought pizza dough. It can be served with or without marinara sauce and it isn't  just for New Year's Eve. It's perfect for Sunday football too.
Take a look at all the other recipes before you plan your menu! If you are still looking for a Christmas eve recipe, these would work too.
Have a Merry Christmas and I'll see you next week!
Three Cheese Pepperoni Bread
Recipe type:
Appetizer/ Snack
Prep time:
Cook time:
Total time:
This cheesy pepperoni bread is perfect party food!
Ingredients
16 ounce ball of pizza or bread dough
¼ cup flour, for counter
6 ounces sliced pepperoni
3 ounces sliced provolone cheese
3 ounces sliced mozarella cheese
⅓ cup grated parmesan cheese
2 Tablespoons olive oil
1 Tablespoon Italian seasoning
Instructions
Preheat the oven to 350 degrees. Line a large baking sheet with parchment paper.
On a lightly floured counter, roll dough into an approximately 12x18 inch rectangle.
Layer with pepperoni to within a half inch of the edges. Top with provolone then mozzarella cheese. sprinkle with parmesan cheese.
Beginning with the longest edge, roll dough into a thin cylinder and seal seam. Brush with the olive oil and sprinkle with Italian seasoning. Place on the lined baking sheet.
Bake in the preheated oven 30 to 40 minutes, or until golden brown. Let cool then cut into slices before serving.
Sunday Supper New Year's Eve Menu Ideas
End of the Year Appetizers & Mains
Happy New Year Hors d'Oeuvres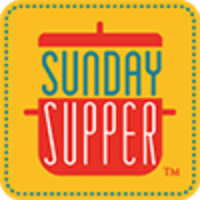 The Sunday Supper Movement is committed to bringing our readers delicious recipes that encourage them to gather and eat together around the family table. Search for your favorite ingredients on our Sunday Supper website. Also check out the Sunday Supper Pinterest boards for plenty more ideas and inspiration.
Please follow and like us: